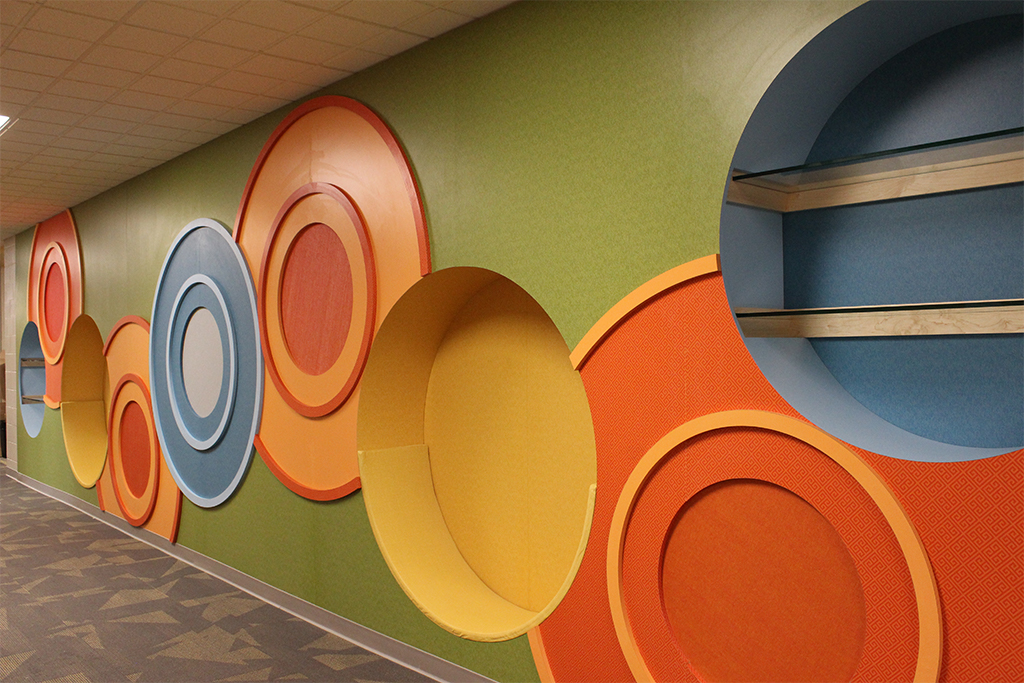 Project Name: Northwood PK-12 School
Owner: Northwood Local Schools
Architect: Fanning Howey Associates
Construction Manager: Rudolph Libbe, Inc.
Sub-Contractor: Farnham Equipment Company
Scope: Products & Installation of Casework, Architectural Millwork/Cabinets, Wood Millwork/Cabinets, Gym Equipment, Telescopic Bleachers
Completion: September 2017
Northwood Local Schools' new building opened fall 2017, consolidating all schools into one main building with Preschool and Elementary Students at the lower level and grades 7-12 in the upper level. As you walk into the building, you're greeted at the Stevens Industries serpentine reception desk. One of the most eye catching part of the construction Farnham Equipment Company, with the engineering team at Stevens Industries, constructed was the hallway display wall complete with built in benches and shelving for students to get cozy or set out prized artwork. The building, housing Stevens Industries casework, both traditional and lab casework, and millwork throughout, features open learning areas as well as mixed use classrooms and media centers.
Hussey Seating Company telescopic bleachers filled two gymnasiums in Champion Blue with Black Aisle Rails and custom Safety-End Closure Curtains. Performance Sports athletic equipment including basketball backstops with main court and cross court units, divider curtains, and volleyball equipment, chin up bars and climbing ropes were also housed in both gymnasiums.

For a full construction gallery please visit: http://www.northwoodschools.org/gallery *Cover photo courtesy of Northwood Schools Gallery