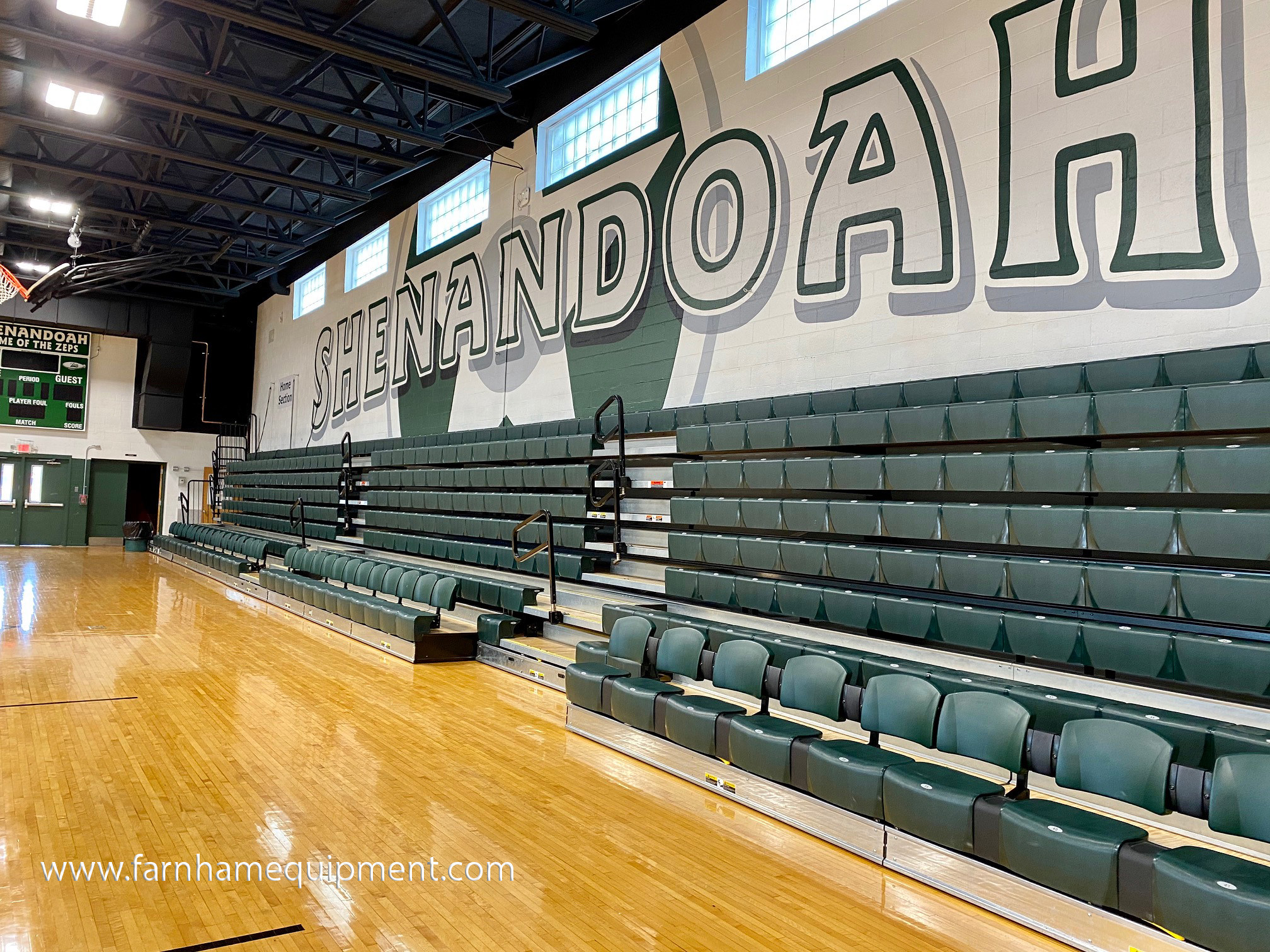 Project Name:
Shenandoah High School
Owner:
Noble Local Schools
Architect:
SHP Leading Design
CMR:
Energy Optimizers
Scope:
Provide and Install Educational Casework, Telescopic Bleachers and Lab Casework
Completion Date:
August 2020
Noble Local Schools partnered with Energy Optimizers that allowed them additional funding for their district in exchange for using them as their energy consultant. With the additional funding in place, Farnham Equipment Company was able to assist with some of the improvements within the high school.
SHP created the architectural layout for this project. Within the gymnasium, Farnham Equipment delivered and installed telescopic bleachers from Hussey Seating Company. These wall-attached bleachers included Auto-Rotating Hand Rails along with Courtside Backrests on the first tier for the home side of the gymnasium. The backrests have become a popular solution for team seating. By placing flex row seating on the first tier of the bleacher, customers are able to install backrests. 
Throughout the rest of the building, you'll find Stevens Educational Casework in the classrooms. This casework came in a Kensington Maple finish and can be found in the Robotics, Drawing, and Culinary Arts classrooms to name a few. If you check in on the science rooms, ICI Lab Casework is visible. These epoxy resin counter tops complement the natural wood casework seen in the science rooms. ICI also provided a fume hood for installation.
This project was a great example of the customization with newly available funding. Without working with Energy Optimizers, it would have been difficult for Noble Local to provide new additions and improvements to the high school. Thankfully, Farnham Equipment was able to meet their custom needs within a challenging time frame to make the project really stand out.
The full gallery for Shenandoah High School can be seen here.