Parents, patrons, fans, community members – they all spend numerous hours in the stands cheering on the team, watching the performance, and listening in on notable speakers. When planning for your telescopic bleacher upgrade or replacement, you do have options when it comes to providing comfort. Come, have a seat with us and explore what is available from our longtime partner and exclusive manufacturer, Hussey Seating Company.
Traditional Options
Back to basics with the Classic Wood Seats: All boards are finger-jointed Southern Pine Grade "B&B", the finest available, and are triple sanded. Boards are finished with two separately UV cured coats of urethane.
Waverly Field House, Wood Seats are set apart with Custom Color Aisle Rails, Step Sign Graphics, and a full-bleed Safety End-Closure Curtain.
The CourtSide Seat is manufactured from 100% recycled materials and is the perfect blend of ergonomic comfort, modern design, performance, and value.
CourtSide 12: Hussey's CourtSide XCS12 is the world's only ergonomically designed gym seat module. It provides an individualized contoured seat that incorporates modern styling, dual texturing and waterfall edges. This seat is 12" (31cm) wide.
CourtSide 10: CourtSide XC10 incorporates a unique fore to aft contoured seat and a gradual "waterfall" curve on the forward edge that ensures comfort, regardless of the leg position. The seat is 10" (25cm) wide.
CourtSide Seats have multiple color options with opportunities for branding with the CourtSide logo graphic and the seat row and number graphics. Additionally, you can customize your CourtSide Seats with a Signature Block Logo or Hussey's Xtreme Logo graphics.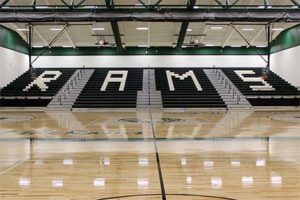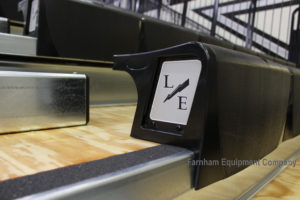 CourtSide Backrests & Spacers: Choose either or both to compliment your CourtSide Seats. Seat Spacers are available with an optional cup holder and offers the extreme in comfort by creating nearly 25% more personal space for spectators. The contoured backrests provide maximized comfort with low and mid-back support. Providing a VIP
section of CourtSide Seats with backrests and spacers can be an additional revenue stream for a facility.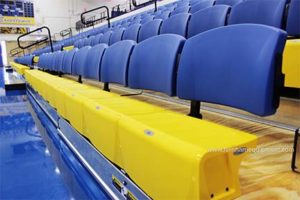 Ease of use is always at the forefront for Hussey, one person can raise or lower up to seven backrests at a time, minimizing labor. When folded down in the stored position, the backrests sit on the deck, providing protection for both the deck and the backrest from marks and other possible damage.
Go for the Upgrade
These upgrade options require a blend of MAXAM and MAXAM+ understructures.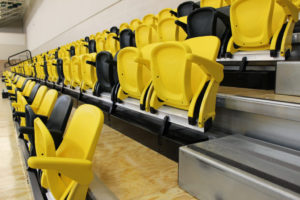 Metro Seating: Provide the utmost comfort with either a semi-automatic (2-14 chairs) or foot assist mechanism (1-4 chairs). The Metro chairs fold and store in the unit when closed. Requires 30" (76cm) – 33" (84cm) row spacing (varies by code). Metro seats may be deployed with or without arms and has an optional cup holder. Seat width is varied to meet your seating layout needs. Options include both Upholstered and Metro Polymer.
Quattro Forward Fold: A full-sized, Quattro chair, completely contained within the deck when the platform is closed. Setup and changeover is fast and easy with a single operator by simply unlocking the Quattro forward-fold chair rows and raising or lowering up to 14 seats at a time.  Seating options include both Upholstered and the Quattro Performer, Polymer seat.
Premia Collection: This low maintenance chair with folding backrests offers an innovative way to provide ergonomic comfort in a compact individual chair with semi-automatic operation. A Polymer selection gives you 19 color options to match your color palate while numerous Upholstered options are also available.  
Club Bench: This seat closes into a small space, allowing for a minimum rise per row of just under 10-1/4" (260mm). The manual folding, performed plywood seat and back come with a choice of upholstery, with or without a backrest.
Gallery 3: Gallery seating comes in a variety of widths, with or without armrests and with numerous upholstery options. The slim and elegant profile is great for a wide range of auditorium seating.