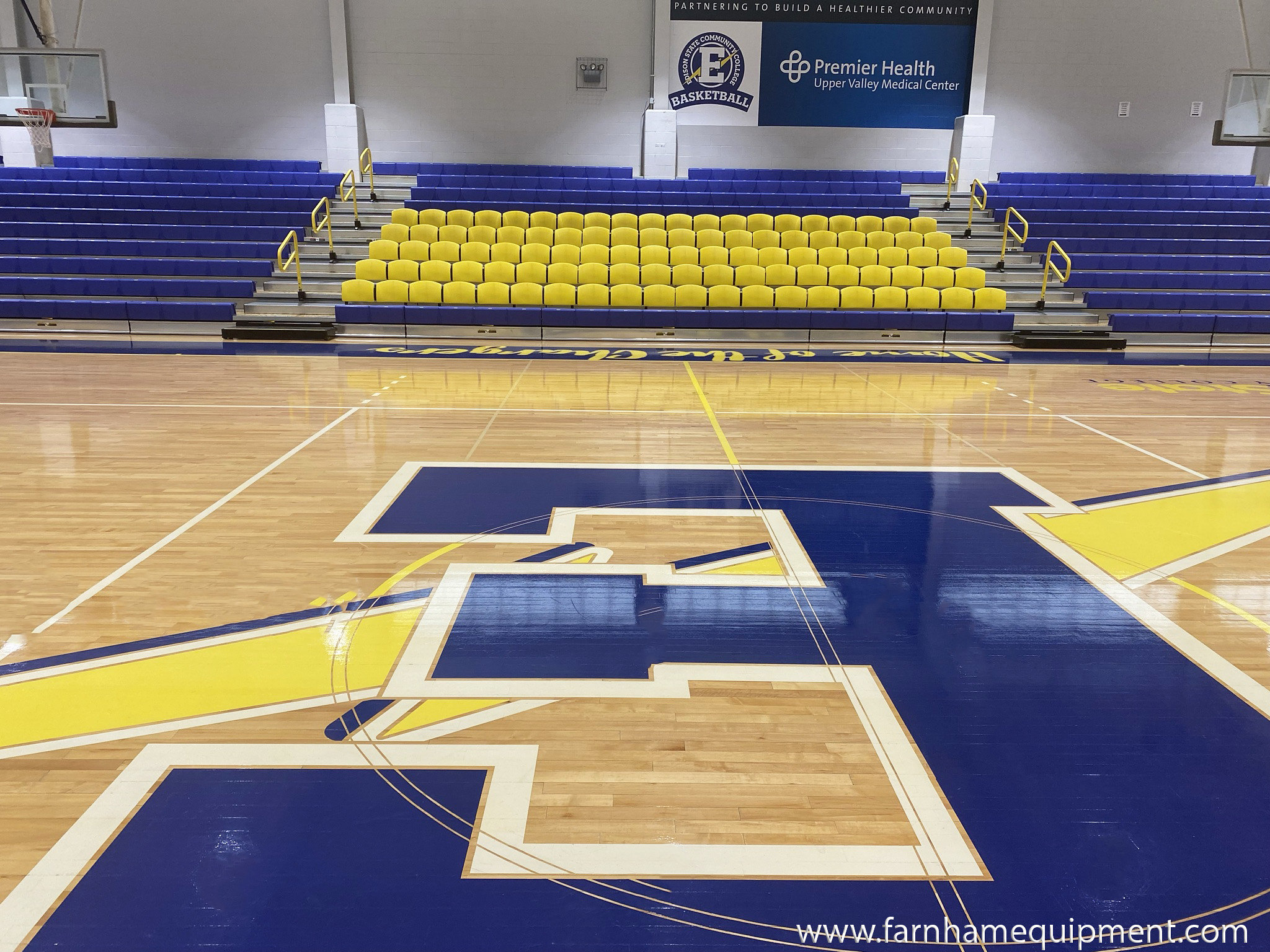 Project Name: Edison State Community College Replacement Bleachers
Owner: Edison State Community College
Architect: The Oregon Group
Scope: Provide and Install Telescopic Bleachers
Completion: August 2021
For some time, Edison State Community College was in need of replacement bleachers for their gym. The existing seats were wood that had worn out their welcome and the understructure was becoming more and more of a liability risk. Through partnering with The Oregon Group, the school made plans to demolish the existing bleachers and install new bleachers for their facility. Farnham Equipment Company (FEC) was awarded the contract to provide and install the new replacement bleachers.
The new bleachers from Hussey Seating Company are Maxam, 10-tier, wall attached, with column cutouts. The bleachers were furnished with bright blue Courtside seats to complement the bright yellow Contour backrests in the first five rows. The college opted for auto-rotating aisle rails, custom yellow-colored rails, and a custom Xtreme Graphic Logo to show off the school's logo. On the open ends of the bleachers, safety end curtains with the school's logo were also provided.
Despite many logistic hurdles and a tight window to complete the job, this project turned out wonderful and Edison State is thrilled with their new bleachers.
This project was a great example of how FEC's bleacher installations are the best in the business. We were able to provide the customer with what they wanted and when they needed it! The Xtreme Logo package is a great asset for any facility looking to modernize their gymnasium with custom branding. And, FEC has the installation team to be able meet tight deadlines.
The full project gallery for Edison State Community College can be seen here.