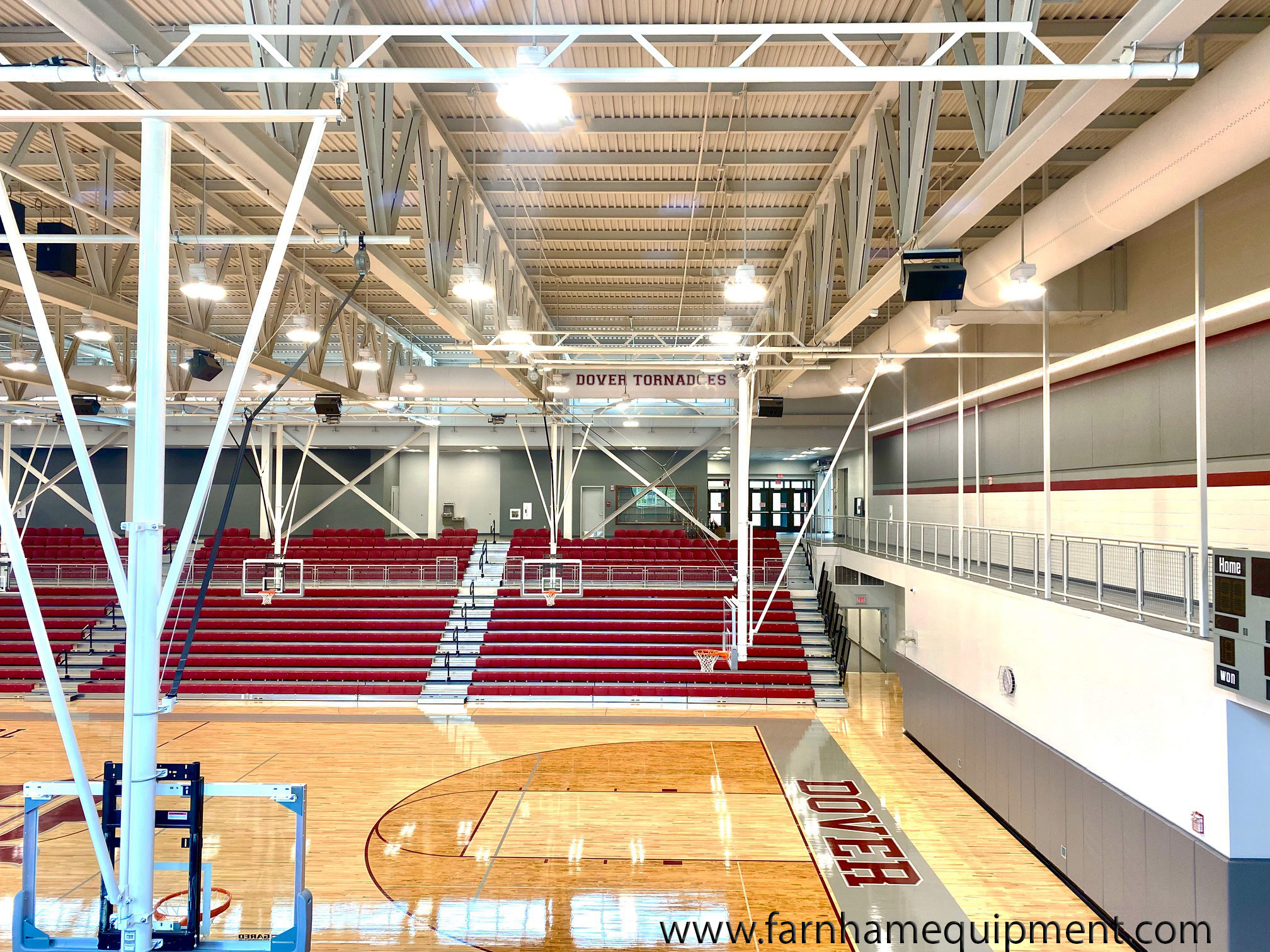 Project Name: Dover High School
Owner: Dover City Schools
Architect: SHP Leading Design
Construction Manager: Hammond Construction
Scope: Provide and Install Telescopic Bleachers and Athletic Equipment
Completion Date: Spring 2020
Dover High School was in a unique position. Their gymnasium layout provided an opportunity to give fans a college or professional basketball-like experience as they entered from the upper level and walked down to take their seats.  However, two big questions lingered:
How do we create a smooth transition for patrons to move from the upper decks to the court?
How do we ensure everyone can see the game, despite the slope of the building
That's where the expertise of the Farnham Team came in.
Through some careful coordination and planning, we determined the rise that would allow fans to see clearly, no matter where they sat. The top four rows that fans would enter the stadium by were designated as reserved seating. The remaining nine rows below would be common seating for the home team. We used contour backs for the reserved seating and fixed bleachers. The row rise was 16″ with 30″ row spacing, allowing fans to see clearly onto the court.
The remaining nine rows were a part of a telescopic, wall-attached bleacher that allowed for a natural walkway for fans while in the open position. These rows came with a 11-5/8" row rise at 24" row spacing with Hussey Courtside Bench Seats to allow for the upper deck fans to see the court clearly.
The building of this bank required additional coordination with the HVAC contractor in order to thread ducts beneath the structure of the bleacher and the structural columns of the building.  This coordination resulted in a seamless experience for fans.
On the visitors side, fans would once more enter through the upper level into their seats. However, without reserved seating, we were able to install a wall-attached telescopic bleacher from Hussey with the same 11-5/8″ row rise and 24″ row spacing as the home section.
We also provided and installed Basketball Backstops and wall pads from Performance Sports Systems for the gymnasium.
The full story can be seen visually here with our photo gallery of this unique project.