_
Service and Maintenance For Your Facilities
When it comes to service and maintenance, telescoping seating systems (bleachers), athletic equipment (backstops, curtains, etc), and grandstands are typically among the largest fixed equipment investments in a facility. Quality equipment, if properly maintained, should last for the life cycle of the building. Bleachers and athletic equipment are typically used by thousands of people each year and are commonly one of the focal points of the community. Being such a large and publicly used system, bleachers and athletic equipment also represent a major source of regulatory and insurance liability.
The focus of our service and maintenance programs is safety, regulatory compliance, limitation of risk/liability & reduction in facility capital costs through increased product life cycles.
Inspections are available for Telescopic Bleachers, Outdoor Bleachers & Grandstands, Playgrounds, and Athletic Equipment including Basketball Backstops, Mat Hoists, Divider Curtains, Volleyball Equipment, Batting Cages, and more.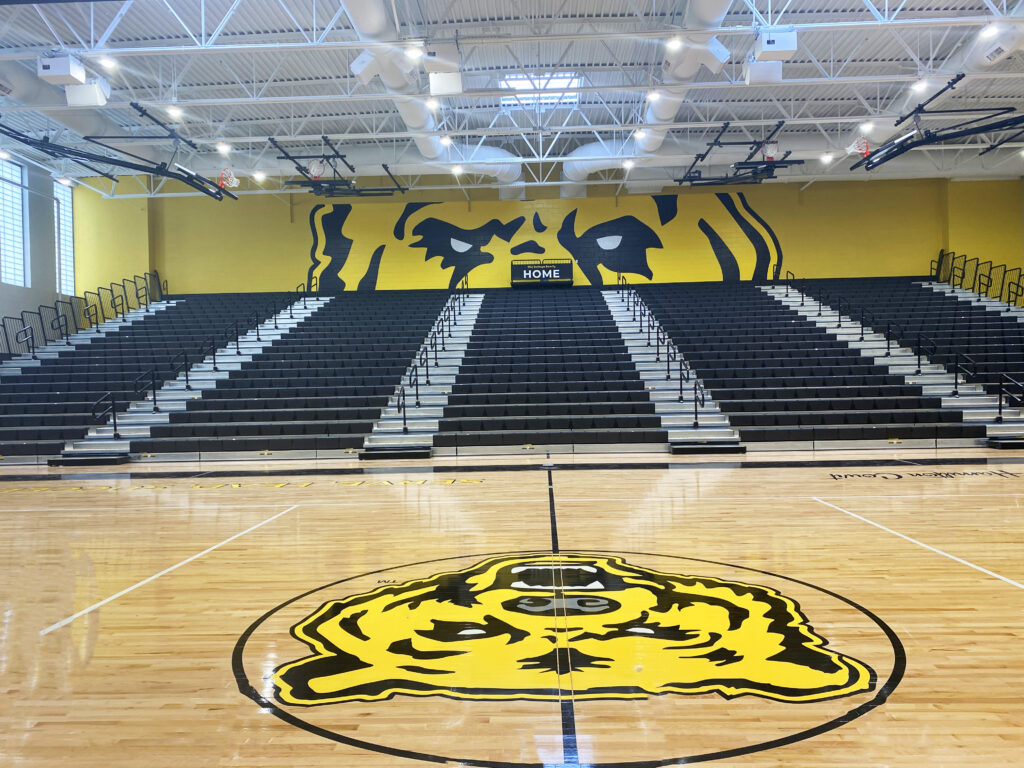 Whether it's an annual Preventative Maintenance contract or an as-needed service, Farnham Equipment Company has the experience to work on all manufacturers and models of telescopic bleachers, outdoor grandstands, and athletic equipment to extend the life-cycle of your equipment while reducing liability for your facility.
Have a basketball game tonight but your bleachers won't open?
With our expert Service Technicians positioned across the state of Ohio, we have you covered for your Telescopic Bleacher, Outdoor Bleacher & Grandstand, and Athletic Equipment emergencies!
Feel free to contact us about any emergency service need you may have.
Repair, Parts, Inspections & Safety Services
We believe in our Products and we believe in Quality Service. Hussey Seating Company sets the standard for safety, viewing regular and detailed bleacher seating inspections and maintenance as much more than code compliance, but the cornerstone of customer care. Our Service Technicians have the vast industry knowledge and are factory trained and certified through Hussey Seating Company on the installation and repair of telescopic seating systems.
As a HusseyAdvantage and Hussey Regional Service Center, we at FEC are dedicated to providing you top quality inspections, services, repairs, and installation. Whether it's parts or replacement seating, we're here for you.
Our team's combined industry knowledge gives you possibilities: Even if your seating wasn't installed by us, we can maintain it. Parts, repairs, and inspections are available for all seating manufacturers.
Orange Zone Regional Service Center
Our partnership with Performance Sports Systems as an Orange Zone Regional Service Center provides you with the ultimate support by extending the life of your gym equipment and letting you enjoy the game without worry. Our Service Technicians are factory-trained in the installation, repair, and maintenance to evaluate your equipment for safety and operational use.
Your Equipment. Our Solution.
Contact us for a quote or submit a Service Request.
---
_
Contact Us About Service and Maintenance
Whether you are a long-time customer or new to what Farnham Equipment Company has to offer, we want you to be able to make quick and convenient contact with the person best suited to answer your questions. Contact the following based on what you are inquiring about:
Service/Maintenance Team:
Installation & Technical Assisstance: David DeCan,937.533.6407 (Phone/Text)
Operations, Scheduling & Technical Assistance: Nick Osterhout, 937.537.9570 (Phone/Text)
Direct Sales, Support & Estimating: Jared Kirk, 614.882.0790 x 8008
Major Renovations, Upgrades & Product Expertise: Rocky Baker 614.882.0790 x 8005