We talked previously about cleaning the bearing surface for your telescopic bleachers, but how often are you cleaning up under your outdoor bleachers?
We're taking the perspective of Safe and Sanitary with this one. You want to make sure your understructure is free of combustibles including unruly vegetation and stored materials.
If you do have stored materials that are combustible, you want to be sure to have proper sprinkler systems in place to prevent a fire from starting, spreading, and harming your patrons. Remember, a disaster like this is less noticeable when the grandstands are full of a cheering crowd and with smells of summer and fall mixed in; smoke is not as easily detected. Taking the proper precaution to keep patrons safe is a priority.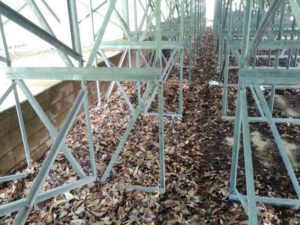 Fallen leaves may appear harmless, but they're quick to catch fire and spread should someone drop something through the stands. They should be cleared out as often as possible to prevent a fire hazard as well as to prevent moisture build up after a downpour.
Vegetation under the bleachers trap in moisture, becoming a breeding ground for bacteria, mold, and mosquitos while also causing wooden ground bucks on portable bleachers to deteriorate.
While you're likely not thinking of your outdoor bleachers while staying warm inside, the winter weather does have an impact on them. Our weather here in Ohio has been pretty unpredictable, torrential downpours one day and snowstorms with high winds the next then bam, it's sunny and 58 degrees.
All this to say, make sure your bearing surface is free of standing water. A block of ice surrounding concrete supports acts as a vise, ultimately deteriorating the concrete.
With all of this, you'll want to make sure your bleachers are always on a level service. If portable bleachers do not have properly installed or damaged mud sills/ground bucks or if foundation column supports are damaged, the unit may sink and/or become unstable.
Earth, Wind, and Fire it's not just a great 70's band, it's what impacts your bleachers through the seasons.