Disclaimer: This post was written by David Melvin, the newest member to Farnham Equipment Company. He oversees our Business Development and Marketing and shares his perspectives below.
Day 1:
There are a lot of good that come from "firsts". First dates, first time to a movie theater, first time conquering a fear. This past weekend, I knocked out to "firsts" by traveling with my team to Nashville for the first time to attend my first-ever 2020 Hussey Dealers Meeting.
After six hours of travel, we made it to the Renaissance Hotel in downtown Nashville. It gave off a "Great Gatsby-meets-Oceans-Eleven" vibe from the scenery. After getting settled in, we headed down to the reception, where I had the opportunity to meet with a gentleman who had been in the industry for 50 years! Hearing him share how his relationship with Hussey had developed over the years was very encouraging as someone new to the industry (I have only been on the team for 2 weeks).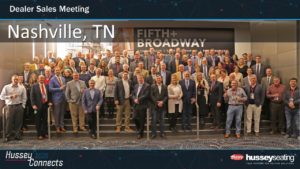 After cocktails, we had a robust and filling dinner at Wildhorse Saloon, where I connected with another new member apart of a different company. We enjoyed drinks, pool and live entertainment (watching people learn how to line dance is quiet funny). After some late night White Chocolate Banana Pudding ice cream and watching LeBron drill five-threes in a row to bury the Spurs, I went to bed.
Day 2:
Waking up to complimentary breakfast is always nice. While I enjoyed some granola and yogurt (plus honey), my team and I sat down for what would be the next eight and a half hours.  During that time, I learned about Hussey Seating Company, its processes, what to look forward to this year and how my role within Farnham could play a part in helping. Below are some "quick hits" of what I took away from the first half of the presentations:
Hussey continues to show persistence in future investment, with the addition of manufacturing space and utilizing innovative technology advancements with new equipment additions.
This year marks 185 years in business. The company's decision to continually invest in improvements shows promise of many more years of success in the seating solutions industry.
Hussey is focused on building connections, both between us as dealers and them, but also with other dealers that use Hussey products.  There is a focus within Hussey to create a culture where all dealer members and Hussey team members are aligned together to generate increased sales.
Our lunch was delicious (shout out to the deli sandwich+tomato bisque combo) and then we were back at it. I heard about relationships with Architects and Theater Consultants, got refreshed on Telescopic Bleachers and learned how Hussey is positioned better than its competitors. One main theme resonated throughout these presentations:
Sales are the result of ongoing relational investment, where dealers approach their customers with a sense of looking to understand, ask questions, and teach in order to give customers surety of their decision to go with Hussey products.
We split up for an hour and a half break, which I took full advantage of by finding a good nearby coffee shop to hit up. Fast forward 90 minutes, and I'm in a full suit ready for the awards ceremony.
The awards ceremony confirmed that the relationship that Hussey Seating Company has with its dealers isn't forgotten, and that this relationship is vital for the success of Hussey and the dealers. And the dealers I met with this past week were outstanding dealers, and more so, outstanding individuals.
Day 3:
More complimentary breakfast is what awaited me on my last morning in Nashville. Along with that, I was introduced to Awake caffeinated chocolate bars.  Shortly afterwards, more Hussey presentations commenced, in which I took away the following keys:
The popularity of E-sports creates new opportunities for dealers looking to provide flexible seating options to its customers
Hussey is uniquely distinct from its competitors in all products, even down to the Clarin chairs
Hussey cares about its dealer relationships and creating efficient means to communicate and streamline the dealer process.
With that, I jumped into a crowded car with my other teammates and headed back to Columbus. I am extremely thankful to get to not only meet some wonderful people within the industry, but learn about how Hussey is integral to my day-to-day-role within Farnham.