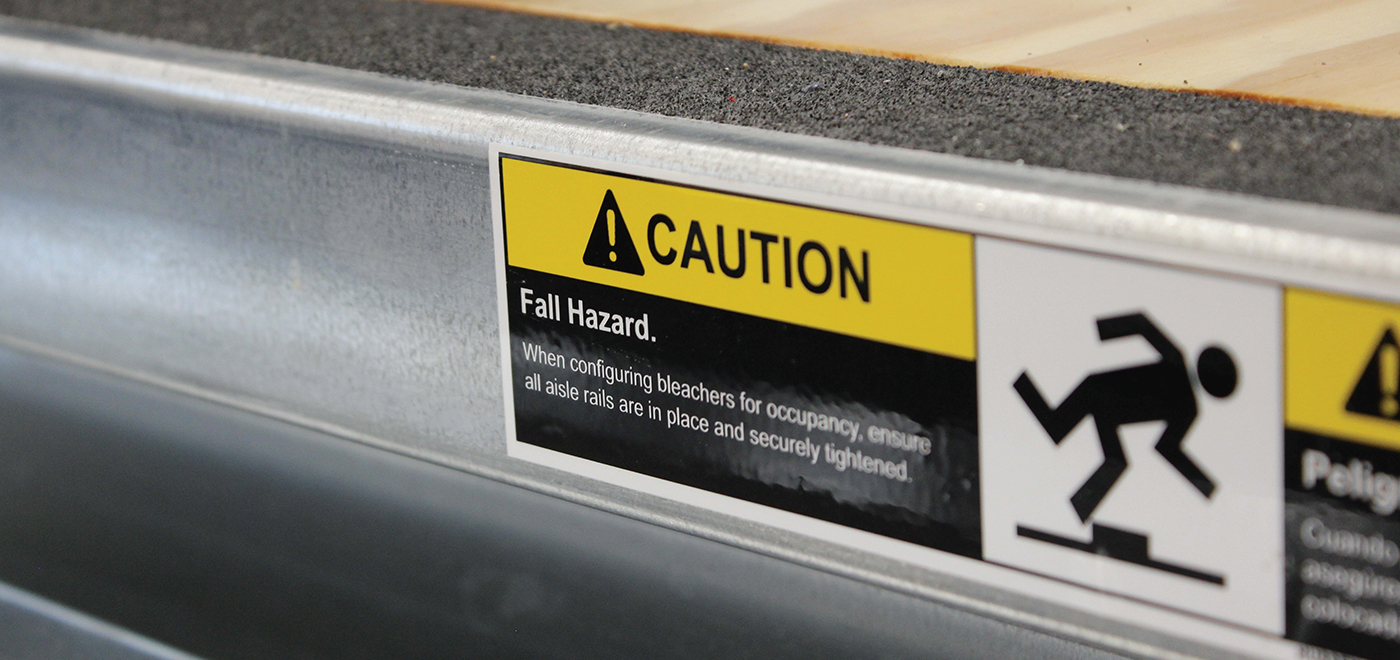 New Year, New Budgets Ahead
The budgets are coming, the budgets are coming! A new calendar year is here and for many of you, a new fiscal year is right around the corner. What should you include in your maintenance budget when it comes to telescopic seating, outdoor seating and grandstands, and athletic equipment? Let's take a look.
Telescopic Bleachers
A good place to start is your inspection log. When was the last time your telescopic seating and outdoor bleachers were inspected? The Ohio Administrative Code states that bleachers must be inspected annually by a qualified person. Not only will you want to include that in your budget, if it's been more than a year, you'll want to get it scheduled sooner than later.
If you have had an inspection within the last year, take a look at what was on your inspection report. What changes, repairs, upgrades need to happen to ensure your bleachers are safe and compliant? Do you have a plan for improvements? Here are some top goals to consider for your existing bleachers:
Repairs for code compliance
Upgrades for patron safety and ease of access
Upgrades for ease of operations/changeover
The first goal should always be to repair your bleachers for safety and code compliance, not only does this extend the lifecycle of your bleachers, it keeps your patrons safe and your liability down. If you cannot repair every item due to budget constraints, consider working on a phased plan with the most critical items repaired first weighing in on what you are capable of completing yourself and what you should hire an expert to perform. Not sure? Ask us, we can help you decide.
Perhaps your bleacher unit is an older model that doesn't include aisle rails and you want to add them for ease of access for your patrons. Be sure that if you're adding aisle rails that you consult the ICC-300 2012 (alterations) as it states that any upgrades should be treated as new installations so for example, you'll want to be sure to have the proper aisle egress which may mean that you'll need to also shift your seating to make more space. Another upgrade to consider for patron safety include Safety-End Closure Curtains to prevent unauthorized access to your bleachers so that both patrons and your bleacher unit are safe.
Did you know not using your floor to first row aisle steps is against code compliance? We realize they're heavy, we realize they get misplaced – and that's why we have a solution – hinge kits are available to keep your steps in place and to easily fold them down for use and back for storage.
can help you!
Is manually turning and securing your aisle rails too time consuming and labor intensive? Check with us to see if retrofitting our Auto-Rotate Aisle Rails is an option for you. As your bleachers open and close, so do your aisle rails. Also available, a wireless pendent control to make operation even easier. We know you have a lot to maintain at your facility, let us help you make it easier for you.
Outdoor Bleachers & Grandstands
The same rule applies here, time to get out the inspection log! Even though you may have gotten an inspection in the fall, it's a good idea to check things out before outdoor spring sports begin. Changing of the seasons causes expansion and contraction of aluminum that can loosen hardware and sometimes causes end caps to come loose.  You want to check for loose hardware periodically because it's what holds your structure together. One missing bolt in the right spot can weaken the unit.
Again, take a look at what was on your last inspection report. Do you need:
Repairs for code compliance
Upgrades for patron safety and ease of access
One code compliance repair to look at involves the 4-inch sphere (hint, this is also applicable to telescopic seating). Are there any areas in your bleacher where a 4-inch sphere can pass through? Check out our post on What a 4-Inch Sphere Has to Do With Bleacher Safety for more information. Additionally, you can check the fencing on both the side rails and the rear guard rails to ensure you do not have any openings where someone could get caught or fall through.
Upgrades for patron safety and ease of access include adding ADA seating/access, adding aisle rails and closing in the gaps. As we mentioned above, be sure that any upgrades are code compliant with new installation guidelines. If you have a question, please ask!
Finally, don't forget about checking out your portable bleacher units, they need some TLC too. Check the hardware, check for sharp edges and missing endcaps and check the structure for damage.
Athletic Equipment
Let's talk basketball backstops here, the most common type of athletic equipment in your gymnasium. It's a good idea to inspect these annually, in fact, it states in your O&M manual to do so. Check for proper operation including limit switches, safety straps, and for frayed or misaligned cables. It's best that if you have doubt, have an expert check out the equipment. It's too heavy and too high to risk not knowing. Add this to the budget, and don't leave out the side courts!
An upgrade for ease of use and operation is Performance Sports Systems' Total System Control (TSC) WiFi control system that allows you to operate your equipment from your device! A one-touch operation for basketball backstops, divider curtains, lighting, scoreboards, PA Systems and more – all wirelessly controlled using a smart phone or tablet. Of course, there's an app for that!
Maybe the wifi app isn't in your budget goals, but limited access is. A question we hear often is how to prevent unauthorized users from operating gym equipment, especially backstops. You do have options, for instance, you could use a key switch or you could install lock boxes. Let us know what your pain points are because like we said, we are here to make your life easier and to keep you and your patrons safe.
This is by no means a comprehensive list, but it is a first step to get you thinking about what is ahead for 2018. If you have questions regarding your equipment, we're always a call (614-882-0790) or click away!